It is hard to imagine it today, but on the Monday morning after the World Cup final in 1991, all the England team went back to their day jobs.
Most of the backs returned to their City offices, while forwards Paul Ackford and Wade Dooley went back on the beat.
In each case, whether in financial services or law enforcement, many internationals simply continued working in their chosen careers when their playing career ended.
In these days of professionalism, it is a different story.
The wealth curve is very different for your profession
Take a look at the chart below:
The blue line shows an average "wealth curve" for someone working from their early 20s, through to their retirement and beyond.
You can see a steady climb throughout the working life as they develop their career and earnings rise. They accumulate assets and pay money into perhaps a pension fund and other savings.
After retirement, there is then an initial rise as outgoings decrease, followed by a steady decline as assets are used to provide for retirement.
But for professional sportspeople, including rugby players like you, the journey can be very different.
The graph below includes a line for what might typically happen for sportspeople, illustrated by the red line: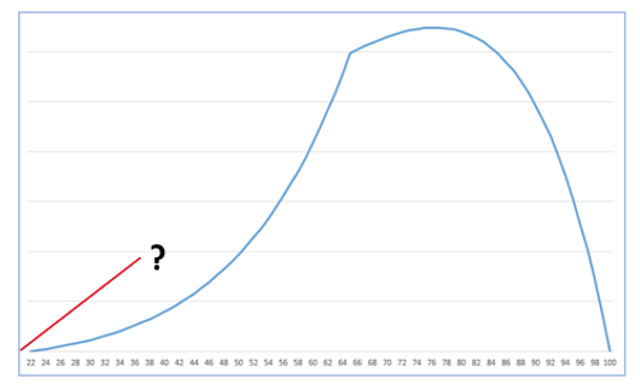 If you are successful, your earnings potential will accelerate, perhaps starting earlier from age 18 or 19, as you realise your potential in your chosen sporting career far more quickly.
But eventually, your professional playing days will come to an end. Research from RugbyDome.com reveals the average retirement age for Premiership players ranges from 33 for fly-halves to 36 for scrum-halves.
That means you might have another 60 years or so for your earnings to support you, even though your window for generating this money is so much shorter.
So, read six tips that can help you prepare for the life at the end of the red line after rugby.
1. Make sure you have a plan
A good starting point is simply to be aware of the limited period you will have to maximise your earnings potential as a professional sportsperson.
From that, you will realise how important it is to have a plan in place. This plan is liable to change as you go through your playing days, in which opportunities arise and challenges are faced, but it is a plan nonetheless.
A Rugby Players Association survey of retired players reported in Rugby World in 2019 found that 52% of players were not in control of their lives two years after retiring, with nearly 50% stating that they had money worries when they stopped playing.
Having a plan can help you stay in control, giving you valuable peace of mind as a result.
2. Protect your earnings potential
The nature of many professional sports is that injuries are a fact of life, an occupational hazard of earning your living from the game. Injuries can limit your career, and potentially even end it.
Happily, advances in medical technology, better fitness regimes, and improved safety laws, particularly around scrummaging, make the chances of a career-altering injury less likely than it was. These changes have gone hand-in-hand with the rise in professionalism and awareness that playing the game is a livelihood rather than a hobby.
In spite of that, you should always be cognisant of the potential of serious injury, and take steps to ensure you are protected should this happen.
There are a variety of options that enable you to provide an income or lump sum in the event of you being unable to work.
It is a very competitive market, and we would recommend you get expert advice to make sure you get the most appropriate cover.
3. Consider post-retirement career options
You have already read about the importance of having a plan. A key part of that plan is to start to develop an idea of what you want to do after you retire from the game.
You may decide you want to stay within the sport in some respect, perhaps in a coaching or administrative role. Alternatively, you may be thinking about a career outside of rugby.
Regardless of your intentions, the best time to start planning for that is now. Planning is easier when you have money behind you, so it is always worth developing a savings habit as soon as you can.
You may also want to consider investing in assets now that could provide an immediate and ongoing income stream. Investing in a property portfolio of rental properties is one popular option, for example.
You do not have to decide straight away, but it is much easier to take advantage of an opportunity if you have a lump sum invested and available when it arises.
Again, we would strongly recommend that you take professional advice.
4. Get on the property ladder
One important thing to consider is getting on the property ladder.
Not only does buying a property provide you with a place to live, but it is also an asset that could potentially appreciate in value over the years.
Of course, there is always the possibility of moving clubs, but that could easily create an opportunity to let your property and provide yourself with regular rental income.
5. Invest wisely and according to timescales
Where and how you invest your money is a key component of your financial plan.
The nature of markets means that investment volatility is inevitable in the short term. However, in the long term of perhaps 10 years or more, investing should give you a much higher return on your money than simply leaving it in a savings account.
Although you typically will not have access to the money until you are 55 (rising to 57 in 2028), saving into a pension can be a tax-efficient way to grow your wealth. You will automatically receive tax relief of 20% on your personal contributions and you can claim additional relief at your marginal rate of tax.
ISAs are another effective way to save and invest, shielding your money from Income Tax and Capital Gains Tax.
Because of the importance of your investment choices and the range of options available to you, we would strongly recommend that you get expert advice before starting.
6. Get specialist advice that you can trust
As you have no doubt realised from reading this article, a running theme when it comes to planning your future is the importance of getting expert advice, not only at the outset, but throughout your playing career and beyond.
That is why it makes financial sense to speak to a professional financial planner as soon as possible. And, as your wealth curve is likely to be different than other professions, working with someone with wide experience in helping other rugby players can add real value.
Not only can a financial planner prevent you from making costly, and potentially irreversible mistakes, but there is empirical evidence that getting advice can increase your wealth.
Leading investment managers, Vanguard Asset Management, quantified the value of investment advice at 3% net a year. Similarly, research carried out by Royal London and the International Longevity Centre showed that financial advice provided a wealth uplift of £47,000 in a decade.
An experienced planner will consider every aspect of your finances, including property, pensions, protecting your wealth and investments, and help you manage your money throughout your financial journey.
Get in touch
We specialise in advising rugby professionals at every stage of their career. So, to plan your financial future, get in touch today. Email enquiries@dbl-am.com or call 01625 529 499.
Please note
This article is for information only. Please do not act based on anything you might read in this article. All contents are based on our understanding of HMRC legislation, which is subject to change.
The value of your investment can go down as well as up and you may not get back the full amount you invested. Past performance is not a reliable indicator of future performance. Levels, bases of and reliefs from taxation may be subject to change and their value depends on the individual circumstances of the investor.